Having the expertise and savvy to solve problems, improve your ground and riding skills, teach your horse new things, and ultimately be safe and have fun with your horse?
Whether you are a recreational or competitive rider, want to go professional, or work with horses for a living as a Parelli Professional, the Parelli Program is the secret to success with horses and the Parelli Savvy Club has the tools and resources to help you get there.
Unlimited access to the the Parelli Levels Program presented step-by-step. Every lesson is supported by both video and written directions.
Connect with a community of like-minded horsemen, and build friendships with members who share a passion for never-ending self-improvement.
New content added weekly with a Savvy Q&A, Member Minute, and blogs. Plus connect with Parelli Professionals and dig into topical forums and groups.
LEARN TO TRAIN YOUR OWN HORSE

The Parelli Levels Program
Pat Parelli has a system that teaches real horse savvy both on the ground and while riding, and it is a proven pathway to attaining your horsemanship goals and dreams using behavioral psychology that the Parelli Savvy Club supports.
There is no other program in the world that starts where this program starts or takes you where this program can take you. It not only solves your problems and frustrations, but it also unlocks your potential with horses. Even more importantly, it gives you the keys to a happy horse.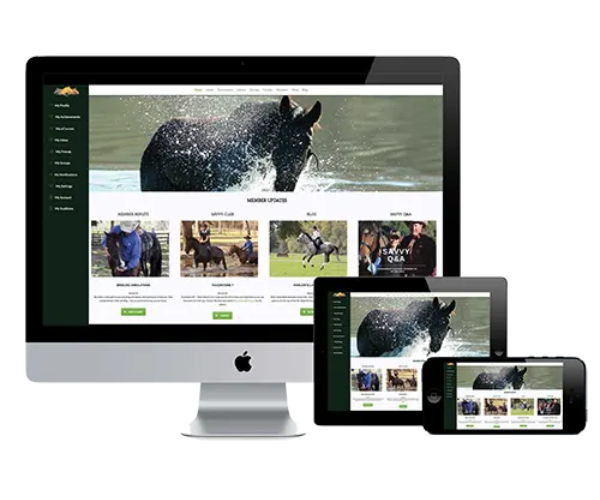 THERE'S NOTHING YOU CAN'T DO
WHEN YOUR HORSE BECOMES A PART OF YOU!
THE WORLD'S #1 HORSE TRAINING LIBRARY
ACCESS TO OVER 35 YEARS OF EXCLUSIVE TRAINING CONTENT!
Including videos, articles, audio files, & more to improve your horsemanship.
Whether you are looking for a solution to a problem you're experiencing, or you need inspiration, or you simply want to do some extra research, you'll find thousands of videos and articles right here that include over 35 years of teaching from Pat and Linda, plus new content added weekly to help keep you up-to-date and inspired .

Lauren Barwick is a 4-Star Parelli Professional, Parelli Finesse Specialist, as well as Gold and Silver Medalist in Dressage at the Paralympics, and Reining Champion.
Her story is truly inspiring and shows just how far and how high you can take your dreams with a Parelli Foundation.
"Whoever you are whatever your horse sport/recreation the Parelli program will educate you how to be safe, fun progressive and achieve your performance goals."
Todd Owens
Parelli Professional
"PNH has changed the lives of all of the people and horses that have studied it. I have seen horses that were deemed "unrideable" become willing, happy partners with humans because of Parelli. For all of us who felt that there must be a better way to communicate with horses, this is it. It helps you to have a stronger bond, to communicate, and to have fun with your horse. It will change your life!"
Jane Raplinger-Stein
Student
"10 ⭐️⭐️⭐️⭐️⭐️⭐️⭐️⭐️⭐️⭐️
Best program ever. Changed my life and my interaction with all animals, especially horses. Thank you Pat and Linda for donating your life to us and our animals."
Pamela Gotham
Student
ARE YOU READY TO TAKE YOUR HORSEMANSHIP TO THE NEXT LEVEL?
Become part of the most influential, transformational horsemanship program in the world.